Lake Wakatipu

Shotover River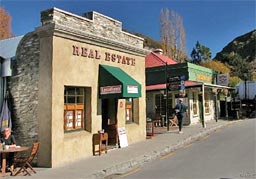 Arrowtown

Golf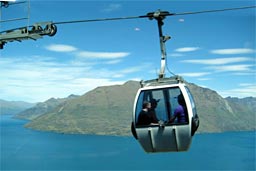 Skyline Gondola
Welcome
The 6th Australasian Conference on General Relativity and Gravitation (ACGRG), Wednesday 8th February 2012 to Saturday 11th February 2012, is the latest in a biennial series of conferences organised by the Australasian Society for General Relativity and Gravitation (ASGRG). The aim of the conference is to bring together researchers from around the world to discuss new findings in mathematical, theoretical, astrophysical, numerical and experimental gravitation, to make contacts and consolidate ideas. The conference is hosted by the Department of Mathematics and Statistics at the University of Otago and will be run at the Rydges Lakeside Resort in Queenstown New Zealand.
Queenstown is the premier tourist resort town in the spectacular mountains of New Zealand's South Island, with international flights direct to Brisbane, Melbourne and Sydney, as well as flights to major NZ cities. It is the perfect spot for those who wish to explore New Zealand's natural beauty pre- or post-conference.
The ASGRG is a regional forum for all issues related to General Relativity and gravitation. It aims to facilitate discussion of mutual problems of interest and to provide greater cooperation in the solving of the outstanding problems in all related fields.
Plenary Speakers, registration, fees and the conference programme are still being developed. The scientific programme of the conference will run Thursday 9th to Saturday 11th February inclusive, with a welcome reception to be held on the evening of Wednesday 8th February.
Plenary Speakers
The plenary speakers are:
Additional details of the plenary speakers and their talks can be found here. Details of the conference programme can be found here.
Registration
The registration fees are
$350 ASGRG member ($240 for student members)
$400 non-member ($270 for student non-members)
To register please visit the registration page. Participants may join the ASGRG at any time up to, and including, Wednesday the 8th of February in order to take advantage of the lower registration costs for ASGRG members. Participants will be able to join the ASGRG at the conference.
Abstract submission
Abstracts can be submitted via a link provided once you are registered. The deadline for abstract submission has been extended from the 2nd of January 2012 to the 9th of January.
Venue
The conference will be held at the Rydges Lakeside Resort in Queenstown, New Zealand.
A map of Queenstown, with the location of the hotel can be found here.
Dinner
The conference dinner will be held at the Rydges Resort on the evening of Friday the 10th of February. The cost of the dinner will be included in the registration fee.
Accommodation
Several rooms have been reserved at the Rydges Resort. Please refer to the accommodation page for details for this and other options.
Contact us
ACGRG6
c/o Dept of Mathematics and Statistics
University of Otago
P.O. Box 56
Dunedin 9054
New Zealand
Email
acgrg6@maths.otago.ac.nz
Tel +64 (0)3 479 7899
Web-related issues: Email jshanks@maths.otago.ac.nz
Sponsors
We gratefully acknowledge the support of the following organization for this event: