---

Lake Wakatipu

Shotover River

Arrowtown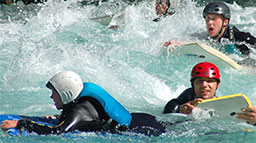 River surfing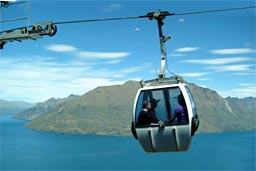 Skyline Gondola
Welcome!
All New Zealand Masters, Honours, and PhD students in mathematics and statistics are invited to this year's NZMASP conference in Queenstown!
Introduction
The New Zealand Mathematics and Statistics Postgraduate conference (NZMASP) has been an annual event for postgraduates in New Zealand from 2007. It has since then been a platform for students to gain experience in presenting their work to an audience. Attendees and winners of the NZMASP student talk prizes have often gone on to win the Aitken prize for best student presentation at the New Zealand Mathematics Society (NZMS) Colloquium and the New Zealand Statistical Association (NZSA) Best Student Presentation award at the annual NZSA conference.
In a nutshell
Prerequisites: you must be currently enrolled as a Masters, Honours, or PhD student in mathematics or statistics at a New Zealand university
You must also present a talk and provide an abstract.
Dates: 21-23 November 2016 (with registration and a welcome reception on the evening of 20 November)
Location: Queenstown
Venue: Crowne Plaza
Accommodation for the group has been reserved: see here
Presentation format: 15 minutes + 5 minutes Q&A
Deadline for abstract submission 14 October.
If you have any further questions, don't hesitate to ask!
Why you should come
Network and learn
The NZMASP conference is designed to provide a supportive and fun academic environment for students to present their research as well as to practise presenting your talks for the upcoming NZMS Mathematics Colloquium and NZSA Statistics Conference.
Enjoy the benefits of Queenstown
Queenstown is the premier tourist resort town in the spectacular mountains of New Zealand's South Island. It is serviced by domestic flights direct from Auckland, Wellington and Christchurch. It is the perfect spot for those who wish to explore New Zealand's natural beauty pre- or post-conference. Here are some suggestions.
Invited Speakers
See the profiles of our three invited speakers.
Our Diversity and Equity Statement
The New Zealand Mathematics and Statistics Postgraduate (NZMASP) conference supports New Zealand postgraduate students in Mathematics and Statistics regardless of their gender, origin, or possible disabilities. The relaxed and supportive atmosphere of NZMASP facilitates academic and cultural exchange between the students, which we expect to be from a diverse ethnic background.
In 2015 the proportion of female students was 31%, which we hope to increase. This year's organising committee consists of three women (Paula Bran, Chuen Yen Hong, Marguerite Hunter) and three men (Jerome Cao, Vee-Liem Saw, Johannes Mosig) from Colombia, Malaysia, New Zealand, China, and Germany.
It is our policy to aim for gender balance in our list of invited speakers. This year we have funding for three speakers, and we have invited one woman and two men. We would need to surpass our current funding goal by at least $900 to be able to invite a fourth speaker (and if we were to manage this, then we would aim to invite another woman).
The NZMASP conference welcomes students with children and families and we will provide any support we are able to provide with our limited budget. For example, we arranged the student's accommodation in three separate houses, one of which would be primarily reserved for students with families or those requiring a (perhaps) quieter environment.
Our Sponsors
We gratefully acknowledges financial support of this conference by the NZ universities and our external sponsors: