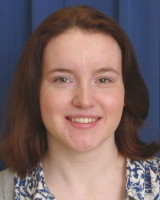 Anna Redmond
Studying for Doctor of Philosophy
Area of study:
Spatial models for muscle fibre data
Supervisor: Tilman Davies
Email: redan738@student.otago.ac.nz
Thesis
Title: Spatial models for muscle fibre data
Supervisors: Dr Tilman Davies, Dr Matthew Schofield and Associate Professor Phil Sheard (Department of Physiology)
Previous Degrees:
BSc (Hons) Statistics (Otago)
BSc Mathematics and Statistics (Otago)
In humans and other mammals, individual muscle fibres can be broadly classified into two distinct categories – "slow contracting" (type I) and "fast contracting" (type II). It is acknowledged that the spatial configuration of type I and II fibres is reflective of both natural aging and certain neuromuscular diseases.
This project will focus on the design, methodological development, fitting and interpretation of statistical models geared to capture the complex spatial and temporal behaviours present in muscle fibre data. Hierarchical models fitted using Bayesian techniques will be of primary focus. This modelling aims to answer important questions about the spatial distribution of muscle fibres and inform research into the biological drivers of muscle changes, and will also have profound implications for analysis of other types of spatial biological data.